Contact
We'd love to hear from you! We want to know how we can serve you better. Feel free to drop us a note, ask a question about our products, or just say hi. We'll get back to you right away.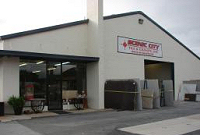 Scenic City Tile & Granite
2718 Rossville Boulevard, Chattanooga
Contact numbers:
Phone: (423) 710-1959
Fax: 423-475-5126
Email:
info@sceniccitytag.com
Mailing address:
Scenic City Tile & Granite, LLC.
2718 Rossville Boulevard,
Chattanooga, TN 37404
Our store hours are as follows:
| | |
| --- | --- |
| Monday-Friday | 9:00am-5:00pm |
| Saturday | 10:00am-1:00pm |
Thanksgiving Holiday Hours:
Closed on Thursday 28th, Friday 29th,
and Saturday 30th. Happy Holidays!
If you can't make it during regular office
hours to view our amazing inventory,
we are happy to set up an appointment
to meet with you!
Directions
Conveniently located off the I-24, Scenic City Tile & Granite can be reached from every direction. Stocking one of the largest varieties of natural stone slabs in the area, we provide customers with exceptional choice, quality, and service. Customers can makes selections and pick our their specific slabs. Our knowledgeable sales staff can provide real answers to questions from design to the installation process. Come by for a visit and see for yourself what sets Scenic City apart from the rest.