Quartz Countertops
Here at Scenic City Tile & Granite, we strive to offer as many leading countertop products as possible. We can help narrow down your choices while staying in budget and at the same time creating an environment that reflects your personality.
We present a large variety of countertop materials that continually changes. We are constantly ordering new truck loads of materials that we personally hand select. We stock only first quality countertop materials. Whether you love wild and intriguing movement for your countertop or subtle consistent colors, we have something for you. We encourage each customer to hand select the exact slab that will be used for your project, and we offer free samples of most of our materials so that you can take them home to look at the colors in your own lighting and discuss with your family.
Tip: When planning a visit to our showroom, bringing a few items will help narrow down your selections. It is a great idea to bring a cabinet door/drawer, tile sample, and paint color samples. While these items are not required, they do help to keep the colors and patterns flowing in the right direction!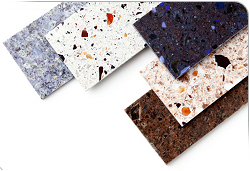 Quartz is an increasingly popular choice for countertops. Engineered quartz is made by blending the mineral quartz with 6-7 percent polymer resins. Quartz is naturally one of the hardest natural materials, a 7 on the Mohs scale of hardness.
Quartz countertops are the perfect choice for customers looking for a more uniformed appearance. They are are available in numerous colors and patterns that range from very solid to sparkly and shiny!
Most quartz countertops are created to mimic the appearance of natural stones.

Also take a look at some of our natural stone samples.